February 28th- April 22nd, 2017
Ane Graff

Mattering Waves

Independent
2037 Fifth Ave.
New York




Ane Graff, Mattering Waves (4), 2017
Walnut and iron rust dyed silk gloves, bismuth, hand blown glass vessels filled with polymer, dust, soil, lepidolite mineral and human DNA, epoxy with mixed plant-, copper- and synthetic pigments, acrylic and MDF base
44 x 53 x 66 cm



And the hand is involved. It reaches forward, towards the sludged blackness of compressed water plants, of previously hovering beetles with veined wings, of crisscrossing branches perched in mid-air, of shifting periods defined by sudden dampness or cold, of synergies of soil and rocks and languid movements. The liquid pools on the floor in shiny sticky echoing rainbow ringlets of light: the light of circular, compressed time and interlaced narratives. It smells: the pungent, metallic scent of petroleum and others.*

In "Mattering Waves", Ane Graff presents a new body of sculptural works that poetically engage issues of identity, touch and growth. Graff, inspired by feminist science studies scholars such as Karen Barad and Donna Haraway, is interested in bringing forward the complexity and relational nature of matter – the awareness that matter is never one thing, but rather a multitude of elements entangled in a network of relations. Her sculptural work combines diverse components in a series of mutually affecting, reactive processes in which the materials change through – and with – each other. In her work, the consequences of identity and growth are rendered unknowable, and touch is materialized. Growth is no longer a linear phenomenon, but instead a series of entangled interactions – a coming into existence through complex connectivity. Underscoring issues of our time – the current man-made ecological crisis and its unknown outcomes – Graff shows us a reconfigured materiality that incorporates the human touch.

Ane Graff (b. 1974, Bodø, Norway) lives and works in Oslo. She graduated from the Bergen National Academy of the Arts in 2004 and currently holds the position of Research Fellow at the Oslo Academy of Fine Art. Her work is currently on view at Henie Onstad Kunstsenter, Oslo, in the exhibition "Myths of the Marble" (upcoming at the Institute of Contemporary Art, Philadelphia). Recent exhibitions include "The Eighth Climate (What Does Art Do?)", the 11th Gwangju Biennale, South Korea, and "Surround Audience - the 2015 New Museum Triennial", New York City.



Entrée is taking over the second floor at Independent's Fifth Avenue property in Harlem and presents the two inaugural solo exhibitions part of the brand new Independent's Gallery Residency Program, both exhibitions opens Tuesday February 28th at 6pm.

On Saturday March 4th at 4pm we invite you to listen in on a conversation between the artist Ane Graff and invited guest, curator Alex Klein, from ICA Philadelphia.





Ane Graff, Mattering Waves (5), 2017
Melted glass bottles with salt and copper powder growths, epoxy with fired dolomite mineral and mixed plant, copper and synthetic pigments, acrylic and MDF base
22 x 48.5 x 62.5 cm






Ane Graff, Mattering Waves (2), 2017
Rose quartz with clay earth and fluorescent pigments, avocado and iron rust dyed t-shirt neckband with pieces of fossilized wood, acrylic and MDF base
23 x 48.5 x 62.5 cm







Ane Graff, Mattering Waves, Install view at Independent, New York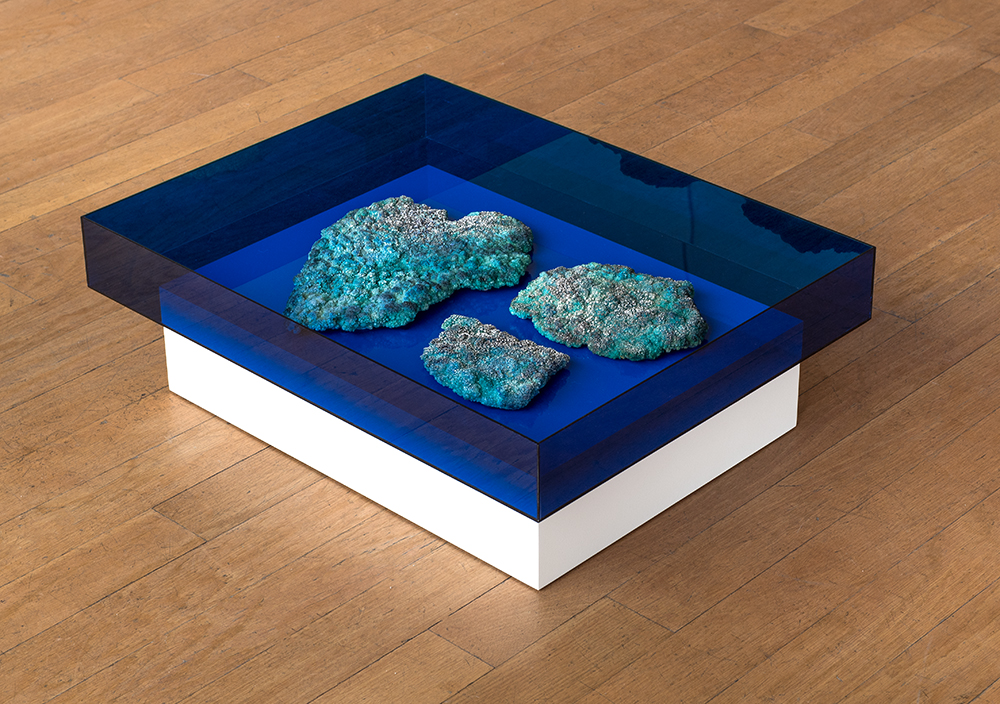 Ane Graff, Mattering Waves (1), 2017
Copper and alum salt growths on fired white granite pebbles in clay, mixed plant-, copper- and synthetic pigments, acrylic and MDF base
21 x 48.5 x 62.5 cm






Ane Graff, Mattering Waves (7), 2017
Hand blown glass vessel filled with polymer, dust, soil, human DNA and copper powders, and walnut dyed textile, acrylic and MDF base
22 x 53 x 62.5 cm




Ane Graff, Mattering Waves, Install view at Independent, New York







Ane Graff, Mattering Waves (6), 2017
Ceramic element made of fired clay with copper powder, powdered quartz and glass, juniper berries, blackberries and iron oxide, bismuth, felt, acrylic and MDF base
22 x 48.5 x 62.5 cm







Ane Graff, Mattering Waves (3), 2017
Epoxy and pigment covered hand-blown glass vessel filled with a mixture of polymer, dust, soil and human DNA, gallium, epoxy with mixed plant-, copper- and synthetic pigments, acrylic and MDF base
31 x 48.5 x 62.5 cm



* Text by Ane Graff

The exhibitions are made possible with support from Office for Contemporary Art Norway, Norwegian Consulate General New York, City of Bergen and Art Council Norway.



Press: