November 27th — January 23rd
SIGLA BINDA

en utstilling med unike kunstnerbøker av
Nanna Gunhild Amstrup
Kristin Þóra Guðbjartsdóttir
Solveig Landa
Rita Marhaug
Svanborg Matthíasdóttir
Imi Maufe
Ingiríður Óðinsdóttir
Anna Snædís Sigmarsdóttir
Sigurborg Stefánsdóttir
Randi Annie Strand



SIGLA BINDA, en utstilling med unike kunstnerbøker på Entrée. Alle foto: Bjarte Bjørkum.



Åpningsdag
Lørdag 27. november, fra 12-17

Søndag 28. november, fra 12-14
Kunstnersamtale med
Trond Søbstad, Spesialbibliotekar, Fagansvarlig for Kunstakademiet – Institutt for samtidskunst, KMD
og de 10 kunstnerne fra Island og Norge


Lørdag 22. januar, fra 13-15
Bokverksted med Rita Marhaug


Begrepene binda og sigla, er to av mange felles ord mellom norsk og islandsk. De har både konkrete og abstrakte betydninger knyttet til vår eksistens som sådan, til havet som binder oss sammen, til kunstnerisk praksis med tradisjoner og innovasjoner og til de historiske båndene og dokumentene mellom nasjoner.

Norge og Island har felles kulturelle røtter, gjennom norrøn bosetting, språk, fortellertradisjoner og ikke minst bokhistorie, men også gjennom sjøfart, fiske og andre forutsetninger naturen gir. De ikoniske fortellingene om Norge ble nedskrevet på Island og er av uvurderlig verdi for vår selvfølelse som kultur og nasjon.

Tekstbildet og dets fysiske bærere; steintavlen, papyrusrullen og boken, har siden historiens morgen hatt en magisk tiltrekning på oss. De er objekter som kan ha makt over oss, som kan forbinde oss til fortidens mennesker, til det guddommelige og til loven.

Å utforske bokformatets potensiale for å tjene kunstneriske uttrykk er utgangspunktet for de to kunstnergruppene fra Norge og Island. SIGLA BINDA viser frem nye kunstnerbøker fra 10 kunstnere i Entrées nye interiørstruktur for det kommende året, designet av kunstner Magnhild Øen Nordahl.

Codex Polaris er en kunstnerbokgruppe basert i Bergen, Norge. Deres formål er å skape muligheter og utstillingsplattformer for kunstnere som jobber med bøker i Norden. I tillegg til utstillingsaktivitet, inviterer Codex Polaris gjestekuratorer og arrangører til å jobbe med ulike nettverksprosjekter. Prosjektene og tekstene setter søkelys på kunstnerboka i spennet mellom det lokale og det internasjonale perspektivet. Codex Polaris drives av Rita Marhaug, Imi Maufe og Randi Annie Strand.

Arkir (quires) er en kunstnerbokgruppe med base i Reykjavik, Island. Medlemmer av gruppen har jobbet og studert bokkunst sammen siden 1998. Arkir hadde sin første separatutstilling i 2005 og har siden den gang hatt flere utstillinger både på Island og internasjonalt. De er interessert i å dele tanker om bokkunst med andre kunstnere over hele verden. Arkir består av Anna Snædís Sigmarsdóttir, Arnþrúður Ösp Karlsdóttir, Áslaug Jónsdóttir, Bryndís Bragadóttir, Helga Pálína Brynjólfsdóttir, Ingiríður Óðinsdóttir, Kristín Guðbrandsdóttir, Kristín Þóra Guðbjartsdóttir, Jóhanna Margrét Tryggvadóttir, Sigurborg Stefánsdóttir og Svanborg Matthíasdóttir.

Det er også en publikasjon med ytterligere presentasjoner av hver enkelt kunstner som følger utstillingen.
Søndag ønsker vi i tillegg velkommen til en kunstnersamtale med kunstnerne og inviterte gjester.
Utstillingen er støttet av Norsk Kulturråd og Skjal Translation.
SIGLA BINDA vil reise videre til galleriet Íslensk Grafík i Reykjavik hvor den åpner i juni 2022.

Presse:

03.01.22
ArtViewer
Sigla Binda at Entrée

21.12.21
Numer magasin
SIGLA BINDA – eit samarbeid over landegrensene
Av Åsa Osmundsen Opedal



//English//
SIGLA BINDA
an exhibition with unique artists' books

The terms sigla (sailing) and binda (binding) are two of many common words between the Norwegian and Icelandic languages. They both have several concrete and abstract meanings related to our very existence, to the sea that connects us, to artistic practice with traditions and innovations, and to the historical ties and documents between nations.

Norway and Iceland have common cultural roots, through the Norwegian settlement in Iceland, through language, storytelling traditions and not least through their connected book history. The iconic stories about Norway, written down in Iceland, are priceless and a central part in defining our modern states and self-understanding as cultures, even today.

The text-image combination and its physical carriers; the stone tablet, the papyrus scroll and the codex format, have had a magical attraction since the dawn of history. They can be overpowering objects that link us to the people of the past, to the divine and to the law.

To explore the potential of the book format to serve artistic expressions are at the core for the two artists groups from Norway and Iceland. SIGLA BINDA showcases new artists' books from 10 artists inside Entrée's new interior structure for the coming year, designed by artist Magnhild Øen Nordahl.

Codex Polaris is an artists' book group based in Bergen, Norway. Their purpose is to create opportunities and exhibition platforms for artists who work with books in the Nordic countries. In addition to exhibition activity, Codex Polaris invites guest curators and organizers to work on various networking projects. The projects and texts focus on the artists' book in the span between the local and the international perspective. Codex Polaris is run by Rita Marhaug, Imi Maufe and Randi Annie Strand.

Arkir (quires) is an artists' book group based in Reykjavik, Iceland. Members of the group have been working and studying book art together since 1998. Arkir had their first solo exhibition in 2005 and have since then had several exhibitions both in Iceland and abroad. They are interested to share views on book art with fellow artists around the world. The members are Anna Snædís Sigmarsdóttir, Arnþrúður Ösp Karlsdóttir, Áslaug Jónsdóttir, Bryndís Bragadóttir, Helga Pálína Brynjólfsdóttir, Ingiríður Óðinsdóttir, Kristín Guðbrandsdóttir, Kristín Þóra Guðbjartsdóttir, Jóhanna Margrét Tryggvadóttir, Sigurborg Stefánsdóttir and Svanborg Matthíasdóttir.

There is also a publication with further presentations of each artist that follows the exhibition, and we welcome you on Sunday for a roundtable conversation with the artists and invited guests.
The exhibition is supported by Arts Council Norway and Skjal Translation.
SIGLA BINDA will travel to Íslensk Grafík gallery in Reykjavik where it opens in June 2022.
Sigla Binda - an exhibition of unique artist books at the Entrée. All photos: Bjarte Bjørkum.



Anna Snædís Sigmarsdóttir, Stafróf– Alphabet (2021). Linocut.



Sigurborg Stefánsdóttir, Fjell og daler (2021) and Fjöll ig daler (2021). Pastel colors on paper.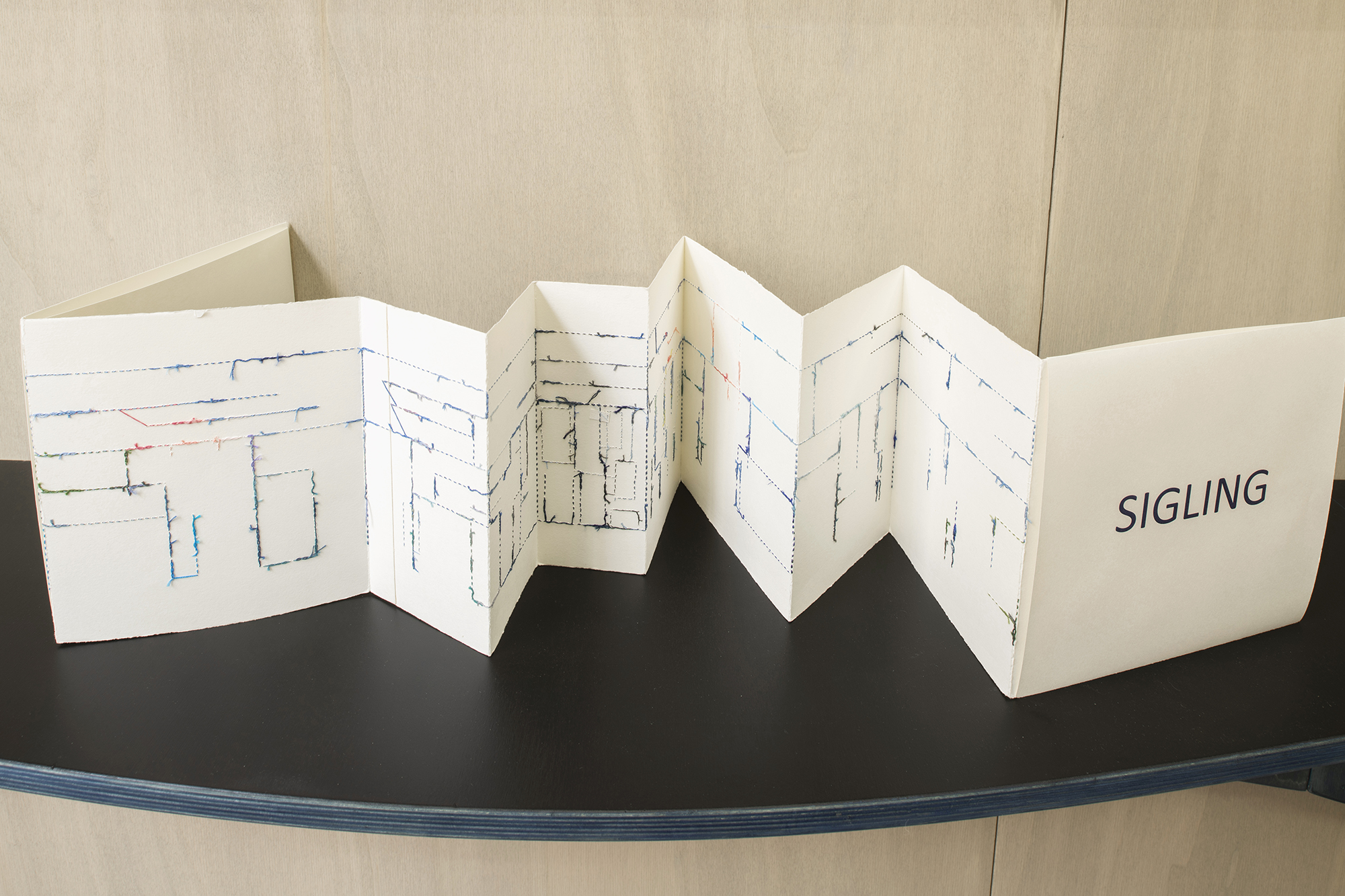 Ingiríður Óðinsdóttir, Sigling (Sailing) (2021). Textile stitching on paper.

Avhengig av ver og vind kunne sigling frå Noreg til Island i vikingtida ta frå nokre døgn til fleire veker. Dersom det var medvind, kunne dagsreisa vere lang. Dersom det var motvind, var ho kort, og skipet kunne drive ut av kurs. I denne boka tok siglinga åtte dagar. Sidene er ikkje like lange, og kvar side symboliserer eit døgn der det vekslar mellom sol og regn.





Rita Marhaugs Stella Polaris er eit bokprosjekt som tek utgangspunkt i Nordstjerna som navigasjonsmerke gjennom tusenår. Bestefar hennar var fiskar og reiste til både Lofoten og Island frå øykommunen på Vestlandet. I biblioteket hans fann ho bøker om navigasjon. Tidlegare generasjonar var prisgitt lagnaden på anna vis enn notidsmennesket. Likevel, vi er i naturkreftene sitt vald, om vi sjølve har vår part i klimaendringane. Leiðarstjarna med sine mange namn, står i nord 323 lysår frå Jorda.



Rita Marhaug, STELLA POLARIS (2021). Hardcover book, text and images in gravure, font in silkscreen, sealskin binding.



Solveig Landa, JARE (2021). Monoprint on recycled paper.

Historia Island og Noreg har, er eit bakteppe nårSolveig Landa visualiserar havbotnen som fysisk bind dei to landa.
I boka Jare består kvar bokside av mange lag gjenbrukt papir, den har ein røff utsjånad og er ikkje lett å bla i. Nokre sider har enkle former monotrykt. Laga viser til avsetningane og sedimenta på havbotnen. Det handlar også om å ta vare på ting, resirkulere og bearbeide, og tenkje at dei ber på minner og er symbol.




Svanborg Matthíasdóttir, HAF / HAV (Ocean) (2021). Watercolor on canvas, coptic stitch binding.

Nord-Atlanteren både knyter saman og skil åt. Frå det første vikingskipet sigla frå Noreg til Island til vår tids skipstrafikk, har havet vore ferdselsvegen for kontakt mellom landa. Havet mellom landa som vi eig saman, er ein ressurs, ei kjelde til kunnskap og utvikling, men samtidig farefullt. Og den betydning som økosystemet i havet har hatt i fortid og nåtid, er det ingen tvil om. Boka, i eitt eksemplar, er måla med akvarellfarge på lerret.




Rita Marhaug, STELLA POLARIS (2021). Shaped painted veneer sheets with various elements of text and images in silkscreen and gravure and sealskin.



Kristín Þóra Guðbjartsdóttir, Villimey (2021). Ink on paper, woven with text sheets from The Legend of the Ice People.

Noregs og Islands historie er samanvoven og her i den rette meininga av ordet. Bokkunstverket er nemleg vove av utvalde sider i Soga om Isfolket av Margit Sandemo. Bøkene var enormt populære blant folk flest på Island, og barn fekk gjerne namn etter personane i sogene. Namn som f.eks. Villemo (Villimey), Viljar og Heike (Heikir) var ukjente namn på Island, medan andre gamle islandske namn som Sunna og Silja vart populære på ny.




Kristín Þóra Guðbjartsdóttir, Glacier (2021). Printed and folded paper.



Kristín Þóra Guðbjartsdóttir, Lava (2021). Printed and folded paper.



Imi Maufe, Malbik Endar (2003/2020). Letterpress, recycled paper, rubber stamped, vinyl, perfect bound, MDF, plywood, acrylic paint, router drawings.

Imi Maufe er oppteken av ord og teikn, og korleis ein kan fortelje om ei oppleving, ei historie, eller formidle informasjon på ein konseptuell måte. I året 2000 sykla Maufe frå Storbritania, øyhoppa gjenom Orknøyane, Shetland og Færøyane til Island og drog heim att gjennom Noreg og Danmark. «Malbik Endar (extended)» er eit arbeid som dokumenterar reisa gjennom minimalistiske ord og teikningar.




Anna Snædís Sigmarsdóttir, Mynjar / Oldsaker (2021). Etching / rust.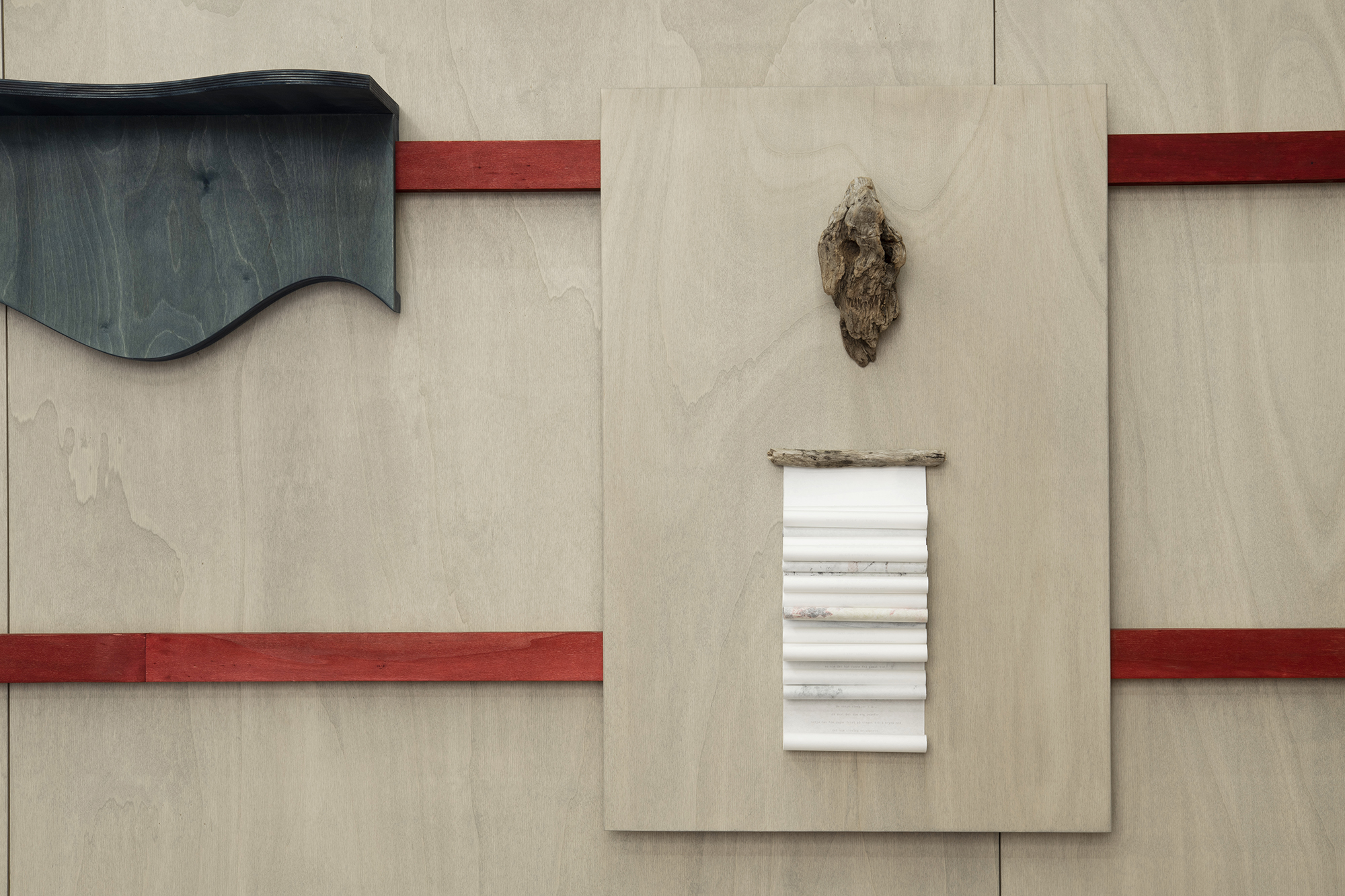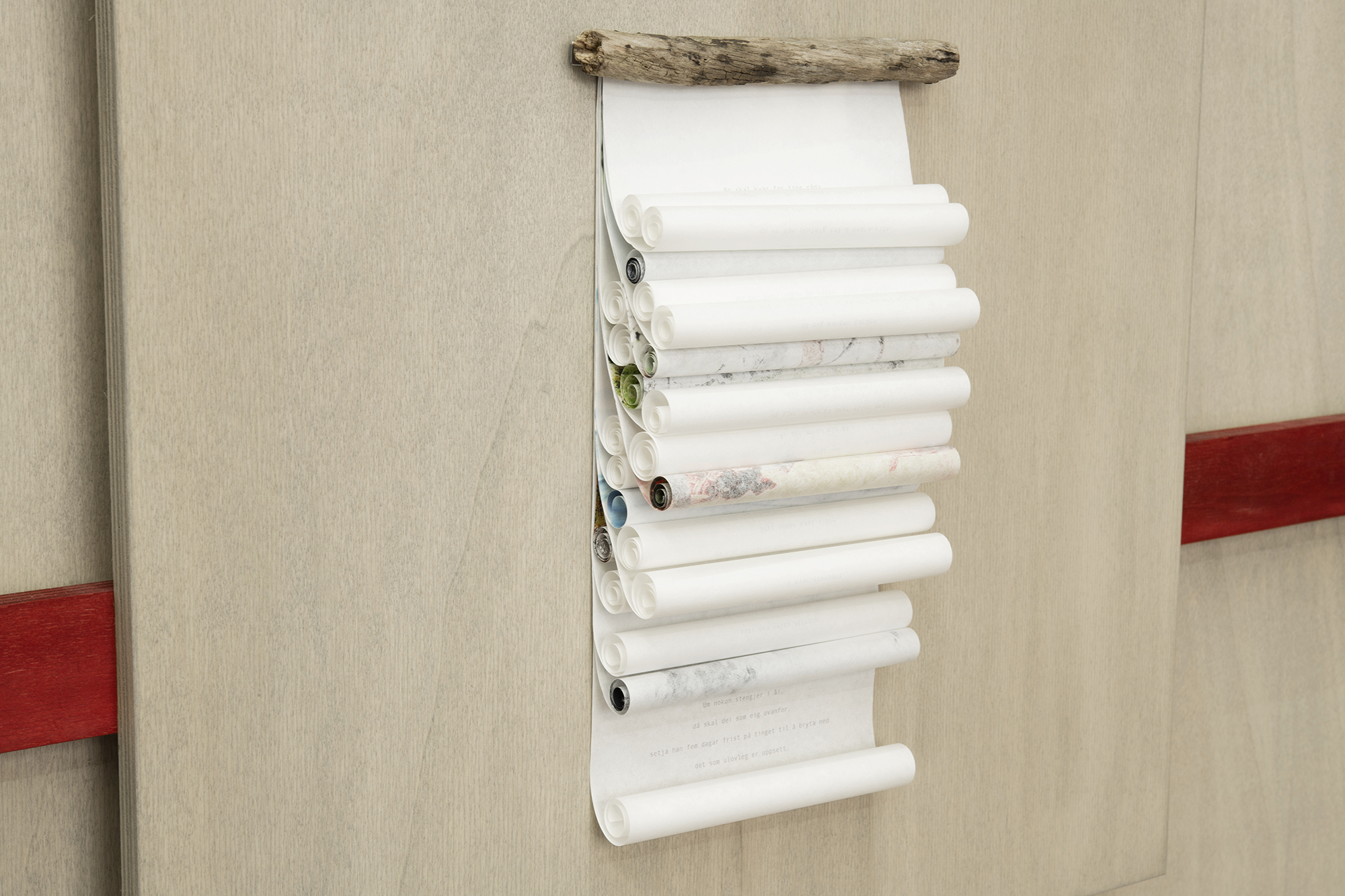 Randi Annie Strand, TINGBOD (2021). Wooden objects and rolled paper with prints and photographs.

Både Noreg og Island er rike på naturressursar. Vi har ei felles språk- og lovhistorie, og vi nytta tingstadar. Den islandske Ulvljotslovi blei truleg laga etter eit mønster frå Gulatingslova. «Tingbod» syner nokre av Gulatinget sine lovar som handlar om naturforvalting og allmennretten. Rullen er ei gamal bokform som framleis vert nytta i somme seremonielle høve.




Anna Snædís Sigmarsdóttir, Búrfell / Burfjell (2021). Linocut.

På Island og i Noreg finn vi fjell av alle slag. Fjellet Burfjell (Búrfell) finn vi og i begge landa, og på Island er dei 39 i talet. Eit av dei er Búrfell i Grímsnes. I Noreg finn vi Burfjell i Rana og Burfjell i Fusa. Fasongen på fjella tykkest vera spesiell. Fjella er store med flat topp, og dei står for seg sjølve ute i naturen. Ordet bur (búr) finn vi i islendingesogene der det tyder noko stort og mykje. Boka, i eitt eksemplar, er eit handtrykt linoleumssnitt i trekkspelformat.




Sigurborg Stefánsdóttir, Norwegian and Icelandic influencers (2021). Mixed media, C-print.

Noregs og Islands historie er tvinna saman i skrivne kjelder og soger heilt frå år 900. Og der som jamt hender, er det mennene som spelar hovudrolla. Her vert den rolla som kvinner spelar, og som like gjerne har hatt innverknad på utviklinga i dei to landa, dregen fram. I hovudsak er det valt ut kvinner som har bidratt med noko av betydning til kunst og kultur, 180 namn frå begge land, til saman 360. Boka er laga i eitt eksemplar, handlaga og skriven ut på ein heimeprinter.




Nanna Gunhild Amstrup, Et Godt Sted at Våkne (A Good Place to Wake Up) (2021). Graphite drawings printed as cold-set on newspapers.

Et Godt Sted å Våkne er ei avis i breddeformat (356x520 mm) og inneheld 16 grafitteikningar i same storleik som originalane. Avisa relaterar seg til sogene vi har mista. Deira fråver av det evig summande, det øyrene ikkje fullt kan fange. Kunstnarpraksisen til Nanna Gunhild handlar om vilkåra for å verte høyrd. I Singla-Binda-prosjektet har ho dykka ner i den tapte litteraturen og forteljingane som det aldri vart mogleg å byggje samfunn på.



Exterior. Sigla Binda - an exhibition of unique artist books at the Entrée. All photos: Bjarte Bjørkum.