March 15th - April 13th, 2014
Terence Koh
sticks, stones and bones
Curated by Espen Johansen

Exhibition at Entrée, Tag Team Studio, and outside using Festplassen
and Damsgårdssundet (by boat)
Publication: Blindhet og Lys
Opening night & performance Friday March 14th / 6pm

Entrée & Tag Team Studio are happy to invite you to terence koh's first solo exhibition in norway entitled sticks, stones and bones, curated by Espen Johansen. The exhibition exists of five parts and will take place in the two venues as well as along the footpath and seaway between them. As both galleries are located by the sea, for you it can possibly include a journey by boat, temporary sculptures, performance and a book along the way. For this exhibition, travel literature might serve as a loose point of departure as the exhibition unfolds in several locations, and the journey between these sites might very well prove to be as important as everything else. For the opening night there is performance taking place in the boat, for the rest of the duration of the exhibition the boat operates as shuttle between venues.

Terence Koh is a New York-based artist with a diverse practice, spanning from large room installations and transgressive performances to tiny drawings and subtle poetry. His work seems to reveal a sort of restless searching or a sense of yearning for something indefinable, often expressed through juxtaposing religious, cultural and historical symbols in a poetic – and sometimes absurd – visual universe. Previous solo exhibitions include the Whitney Museum of American Art (New York, US), Kunsthalle Zürich (Switzerland), Schirn Kunsthalle (Frankfurt, Germany) and the Vienna Secession (Austria).









Performance on boat, stormy night March 14, 2014. All photos by Bent René Synnevåg.



Boat between Entrée and Tag Team Studio, taking passengers during opening hours.




Shot from bridge by Andrea Spreafico.




Exhibition view at Tag Team Studio. Gallery space closed down with wall of stones.




Exhibition view at public space Festplassen. A lighthouse sculpture cut out from one piece of wood.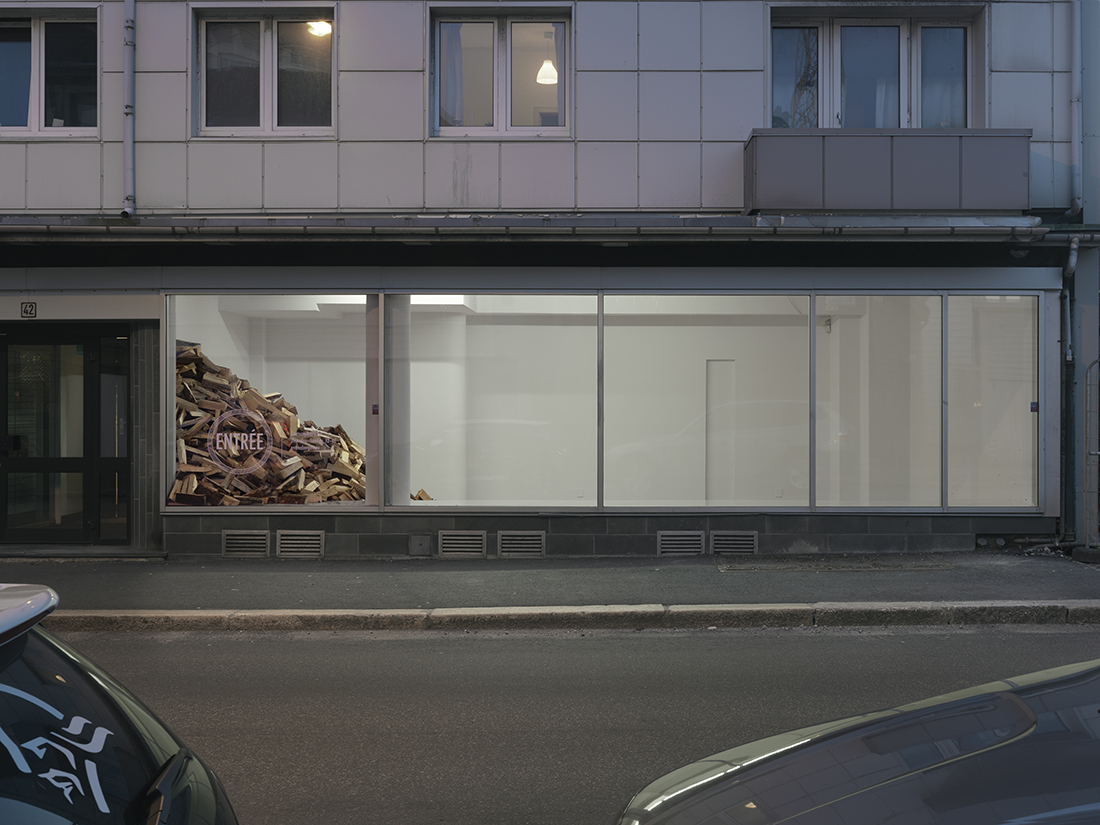 Exhibition view at Entrée. Gallery space closed down with wall of fire wood.




Blindhet og Lys (Blindness and Light). Artists' Book by terence koh. Printed with luminescent ink.





Time table, drawing and map.





Installing at Entrée.



Texts & Reviews:
-
Bergens Tidende
-
Bergensavisen
-
Bergensavisen
-
Dagens Næringsliv D2
-
Billedkunst
-
Bergensavisen