April 29 - May 5th, 2023


Focus: Ciara Phillips

This Saturday at 2pm we're excited to invite you to the Bergen launch of FREE HOT MESS by Ciara Phillips. Presented both as a folded and bound book + as a series of posters!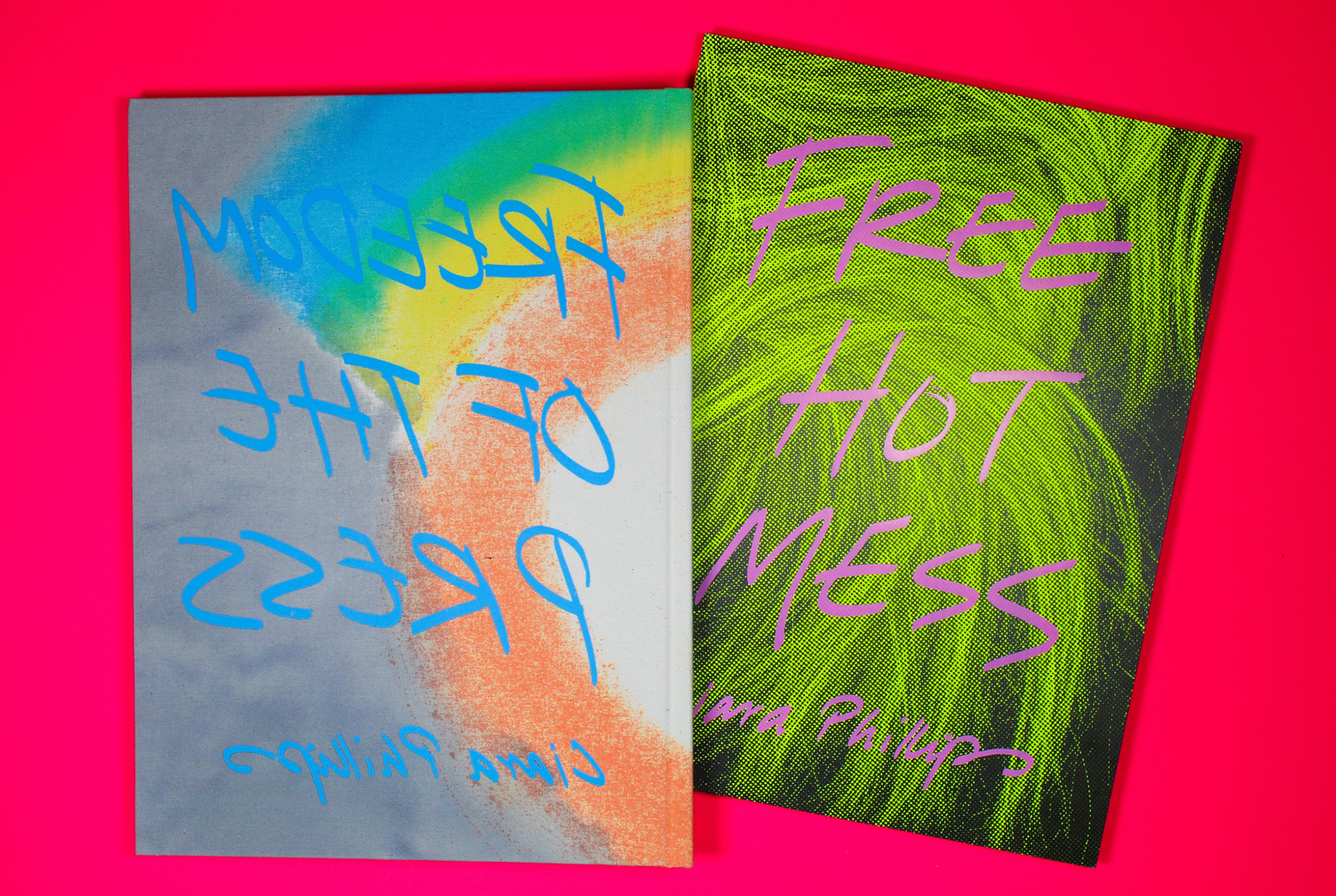 FREE HOT MESS by Ciara Phillips. 220 x 300mm, 144 pages, various print methods for interior printing. The publication comes in two different variations; softcover with foil detail, perfect bound, and a limited edition unique hand-printed hardcover (all covers are different), 2022.


UP: Who are you and what do you do?

CP: I am an artist working with print in its many forms to create installations, public projects and commissions. I frequently work site and context responsively, but I am also engaged with the personal aspects of art making involving my own filtered experience of the world recorded and/or translated through print. Since 2010 I've been working on a collaborative artwork titled 'Workshop' that transforms the space of exhibition into a site of production and simultaneous display and uses the print studio a gathering place for collaborators from all walks of life.

UP: How do you work?

CP: With music on and preferably with people I like around.

UP: What's your background?

CP: I'm Irish and Canadian have moved around a lot these past 46 years. Recently I moved from Glasgow to Bergen and I'm happy have Norway amongst the places I now call home.

UP: How do you work with books in your artistic practice?

CP: I've often made books in connection with 'Workshop' as a record of working with others. These are usually unbound, screen-printed pages folded together to make a book that can also be unfolded to exist as a series of posters. This idea is connected to the publication I'm showing at Entrée which exists a both a folded and bound book, and as a series of poster flats. Free Hot Mess was developed with the designer Fraser Muggeridge, who I first met in 2012 through 'Workshop' when It was shown at Spike Island in Bristol, U.K. as part of a two-person exhibition with the American artist Corita Kent (1918 - 1986).

______

The new monographic artist book Free Hot Mess includes a broad representation of Ciara Phillips's commitment to artmaking and was initiated by Agnes Etherington Art Centre to extend the exhibition Ciara Phillips: Comrade Objects. Essays by Jen Kennedy, Melissa Gronlund and Sunny Kerr investigate the work's engagements with new potentials of duration, feminist ideas of labour and collective processes of radical enjoyment with a focus on the influential social practice piece, Workshop (2010–ongoing). The publication's lively contents fold together multiple temporalities into their own exuberant activity of production. A responsive energy spills into the book format, where commercial printing processes appear as recognitions of art's sister practices. The format was conceived by Ciara Phillips and Fraser Muggeridge to double as a book and an exhibition of eighteen posters. Folded, cut, and bound together in 16-page sections it forms a 144-page book.

Ciara Phillips is an Irish & Canadian artist born in Ottawa, Canada in 1976. Her work has been exhibited in public institutions, artist-run spaces and private galleries worldwide including: The Scottish National Gallery of Modern Art; The Model, Sligo; Kunsthall Stavanger; Museum of Contemporary Art Australia, Sydney; Benaki Museum, Athens; TATE Britain, London; and Hamburg Kunstverein. She is the initiator of many collaborative projects including: Workshop (2010 - ongoing); Poster Club (2010 - 2017); Press Room (2019); and Åpent Trykkeri (2018 - 2019). In 2014 Phillips was nominated for the Turner Prize, and in 2020 she was awarded the Queen Sonja Print Award in Oslo. She has recently been appointed Professor at the University of Bergen, Faculty of Fine Art, Music and Design.

________


Kunstbokhandel Under Press is supported by the Norwegian Art Council's pilot for dissemination and distribution of art and artists' books.