October 6th - November 26th, 2023

Louise Sidelmann
Loss

Vernissage Friday October 6th, from 6-9pm
Entrée, Markeveien 4b
Thursday—Sunday, 12—5pm


Exhibition view, Louise Sidelmann, Loss, Entrée. All images by Mario de la Ossa.

Danish artist Louise Sidelmann uses porcelain clay to intuitively explore the spatial possibilities of drawing and line. Her compositions are based on both man-made infrastructures and organic systems with rhythms and pauses, and the works are further combined with different colored glazes and sintering processes, which change the character of the surface to alternate between shiny and smooth or porous and matte.

In the exhibition, Sidelmann gives form to the sensations of a recent loss. The malleable properties of clay, constantly changeable until fired, provide a framework for rumination and reflection on this universal theme. Shaping her experience through gradual hand building, she mediates her experience as both violent and luminous.

Louise Sidelmann (b.1976) is based in Copenhagen. She studied at Design School Kolding, Aarhus Art Academy, and plastering at the technical university EUC Haslev. Combining fragments, colors, and space-forming compositions of lines, she creates drawings that oscillate between two and three dimensions, between drawing and ornamentation. Louise works casually with her materials, in an almost meditative, intuitive, and experimental process which involves searching for strange and fragile qualities in order to find a harmony between their flimsy and robust aspects. Her work has been exhibited at Skælskør Ceramic Festival 2023, Galleri F15 Jeløy, Ann Linnemann Gallery, Kammer Gallery, Officinet, Møstings Hus, Glinde, Limfjordens Høstutstilling, Charlottenborg Spring Exhibition, Ler08, SAK and CLAY Museum of Ceramic Art Denmark.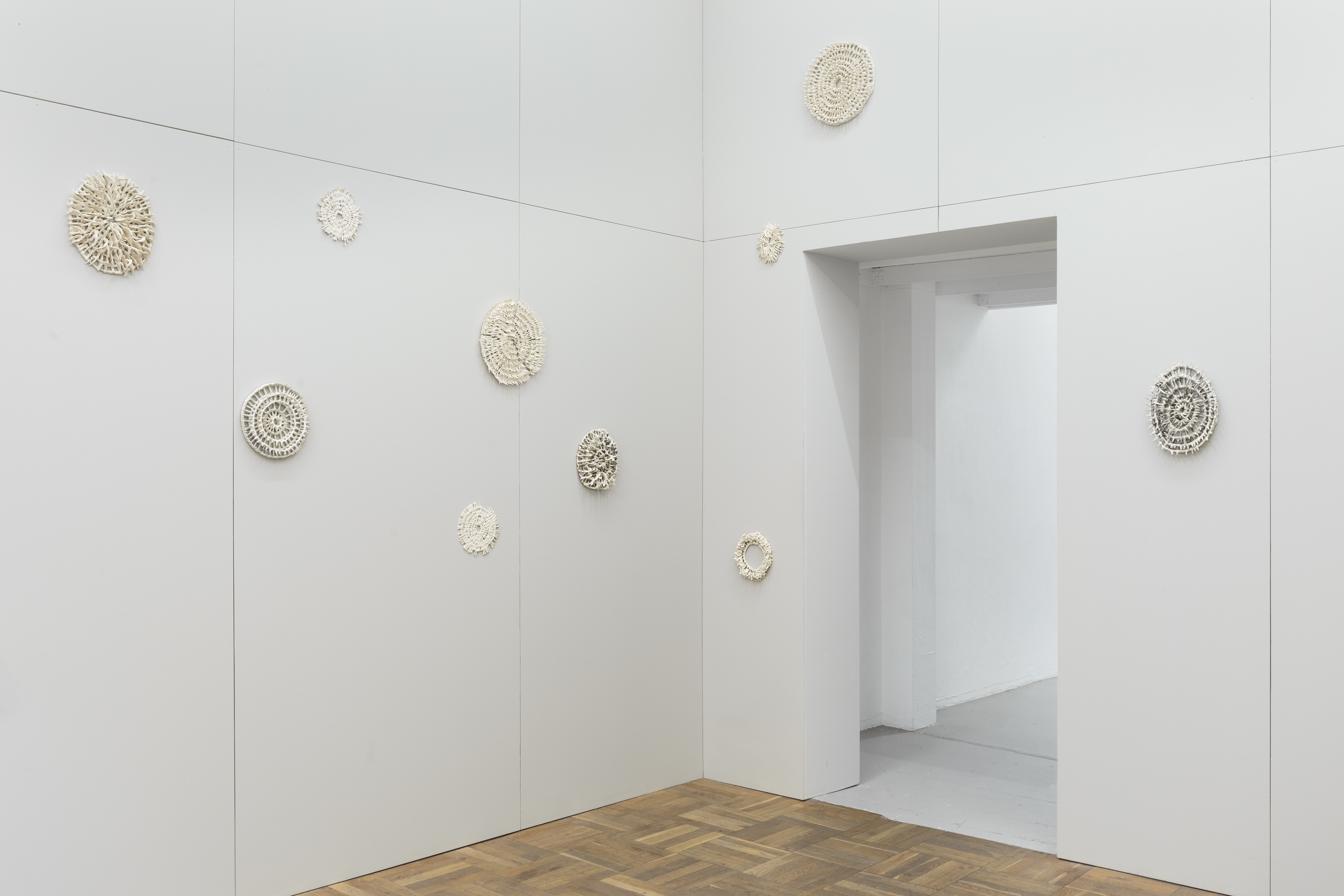 /Norsk/


Den danske kunstneren Louise Sidelmann bruker porselensleire for intuitivt å utforske de romlige mulighetene i strek og tegning. Hennes komposisjoner er basert på både menneskeskapte infrastrukturer og organiske systemer med rytmer og pauser, og verkene kombineres videre med forskjellige fargede glasurer og sintringsprosesser, som endrer overflatens karakter til å veksle mellom skinnende og glatt eller porøs og matt.

I utstillingen gir Sidelmann form til følelsene av et nylig tap. De formbare egenskapene til leire, som konstant kan endres inntil den brennes, gir et rammeverk for bearbeidelse og refleksjon rundt dette universelle temaet. Hun formgir sin opplevelse gjennom en gradvis oppbygning av strukturene, og formidler slik sin opplevelse som både tung og mørk, men på samme tid fredfylt og stille.

Louise Sidelmann (f.1976) har base i København. Hun studerte ved Designskolen Kolding, Århus Kunstakademi og stukkatørfaget ved det tekniske universitetet EUC Haslev. Ved å kombinere fragmenter, farger og romdannende komposisjoner av linjer, lager hun tegninger som svinger mellom det to- og tredimensjonale, mellom tegning og ornamentikk. Louise jobber tilfeldig med materialene sine, i en meditativ, intuitiv og eksperimentell prosess hvor hun fokuserer på de unike og skjøre egenskapene, og søker harmoni mellom det spinkle og robuste. Arbeidene hennes har vært utstilt ved Skælskør Ceramic Festival 2023, Galleri F15 Jeløy, Ann Linnemann Gallery, Kammer Gallery, Officinet, Møstings Hus, Glinde, Limfjordens Høstutstilling, Charlottenborg Forårsudstilling, Ler08, SAK, og CLAY Keramikkmuseum Danmark.