December 5th, 2020 — January 17th, 2021
Lin Wang
Exotic Dreams Tattoo Shop

* Pin-up china girl *
window performance (seen from the street):
Saturday December 5th, 8pm.
Sunday December 6th, 8pm.

Gallery opening hours
from December 10th - January 17th:
Thursday - Sunday, 12-4pm.
Tattoos only by appintment Janaury 15, 16, 17th.

07.01.2021
ArtViewer
Lin Wang at Entrée



Lin Wang, Exotic Dreams Tattoo Shop, Entrée. Photo: Bent René Synnevåg.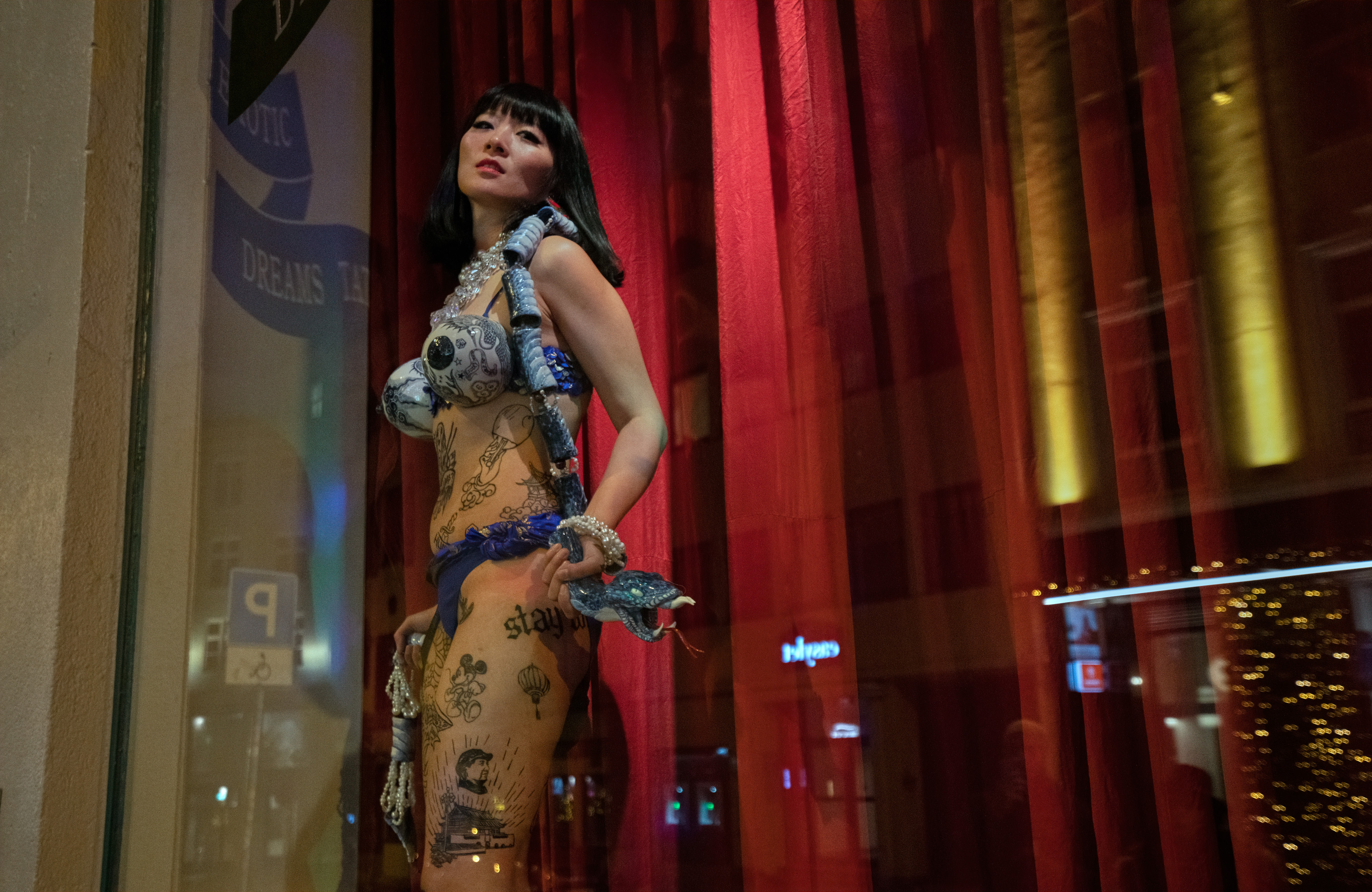 Lin Wang has transformed Entrée into Exotic Dreams Tattoo Shop; reappropriating the gallery to serve the purpose of offering real tattoos to audiences (note: in a limited capacity due to current regulations). Through a new series of experimental performances, Wang steps into (and literally wears!) her work, becoming the protagonists of the show. The exchange of tattoos for private stories is a new objective in her practice, one which grew out of an obsession with sailors' tattoos, which she initially transferred onto blue-and-white porcelain wares.

The installation Exotic Dreams Tattoo Shop includes richly decorated porcelain pieces, rendered in relation to the history of China's export porcelain, to traditions within the field of both porcelain and tattoo art, and to contemporary Western influences. Wang sheds light on different aspects of cultural exchange, originating from the historical maritime trade routes between the East and the West, and up until more recent times, from her own experience of being Chinese in Norway.

Combining and reinterpreting varied references, Wang makes visible poetic misunderstandings that have developed through cultural back and forth negotiation since ancient times until today. She utilizes her craft to bridge cultures and create dynamic conversations, and she suggests new understandings of our contemporary condition.

Lin Wang (b. 1985, Shandong, China) lives and works between Oslo, Norway and Jingde Zhen, China. Wang is an interdisciplinary artist working primarily with porcelain installations and performance. Her practice explores how art can use innovative angles and platforms to penetrate contemporary personal and social spheres in a simple manner. Solo exhibitions include Exotic Dreams and Poetic Misunderstandings - The Silk Roads, at The Vigeland Museum, Oslo and Kunsthall Grenland, Porsgrunn; Exotic Dreams and Poetic Misunderstandings (Performance Dinner), KODE Art Museum, Bergen; Exotic Dreams and Poetic Misunderstanding, BWA Wrocław Galleries of Contemporary Art; and Storyteller, PYO Gallery, Beijing. Group exhibitions include The World's Most Northern Chinatown, Barents Spektakel, Kirkenes; 125 Objects, Choices, Stories and True Blue, National Museum of Decorative Arts and Design, Trondheim; and the 7th Tallinn Applied Art Triennial. Her work is part of the permanent collection of The National Museum of Art, Architecture and Design (Norway).