May 15th at 14:00, 2022

Karoline Hjorth & Riitta Ikonen
Eyes as Big as Plates
- Boklansering -



© Karoline Hjorth & Riitta Ikonen


Den norsk-finske kunstnerduoen Karoline Hjorth & Riitta Ikonen slipper sin andre bok i serien 'Eyes as Big as Plates', og Entrée har gleden av å ønske velkommen til boklansering med kaker og kaffe på søndag den 15. mai fra Kl. 14-16.

Riitta og Karoline signerer bøker og deler anekdoter fra sine møter med fiskere, fredsmeklere, bibliotekarer, villsvinjegere, reindriftssamer, abalonedykkere, skogfinner og et nydelig knippe trøndere fra sine reiser til Tasmania, Senegal, Sør-Korea, Hebridene, Island, Finnmark, Finnskogen, Storlidalen, Bymarka og Trolla.

© Karoline Hjorth & Riitta Ikonen


EYES AS BIG AS PLATES tematiserer individets forhold til natur og stedstilhørighet gjennom fotografi, skulpturelle kostymer og tekst.

Det som startet som en undersøkelse av personifseringer av naturen og folkloristiske forklaringer på naturfenomener, har i løpet av et drøyt tiår utviklet seg til en global undersøkelse av det moderne menneskets tilhørighet i naturen. Serien omfatter nå over 100 arbeider fra 15 land, og samhandling med lokale bidragsytere utgjør grunnpillaren.

I takt med at serien krysser både kulturelle og geografiske grenser, vil Eyes as Big as Plates generere nye perspektiver på hvem vi er og hvor vi er på vei.

Hjorth og Ikonen har samarbeidet siden 2011 og står bak en rekke prosjekter og publikasjoner som 'Eyes as Big as Plates' (2011-), 'The World in London' (2012), 'The Lumber Room' (2013), 'People of Dronningens gate' (2018-19) og 'Time is a ship that never casts anchor' (2014-18). Deres arbeider er blant annet vist ved The Royal Academy of Arts (London), Museum of Contemporary Arts Kiasma (Finland), NADA Miami, Grønlands Nasjonalmuseum, The Chimney NYC, Nasjonalmuseet for kunst, arkitektur og design (DKS), Fotogalleriet, Shoot Gallery, Landskrona Fotofestival og Galleri F 15 (som del av 'Earth, Wind, Fire, Water' i 2020) m.fl.

'Eyes as Big as Plates 2' presenterer over 50 nye arbeider produsert fra 2017-2019 og er utgitt på arnoldsche Art Publishers (Tyskland).Gjesteskribenter inkluderer Marianne Lien (NO), Clara Darrason (FR/US), Jennifer Houdrouge (MC) a Rawlings (ISL), Meghann Riepenhoff (US), Roy Scranton (US), og Arthur Zhe (US).Formgivning av Gregur Ulf Nilson / GunLab

Repro: Italgraf Media
Trykket ved Göteborgstryckeriet, Sverige
Innbinding ved S. R. Büge, Tyskland
Språkvask av Adam KingBoka har blitt utgitt med støtte fra 325 rause Kickstarter-supportere, Fritt Ord, Norsk Kulturråd, Fond for Lyd og Bilde, Billedkunstnernes Vederlagsfond, Finsk-norsk kulturfond, FRAME Contemporary Art Finland & Arts Promotion Centre Finland.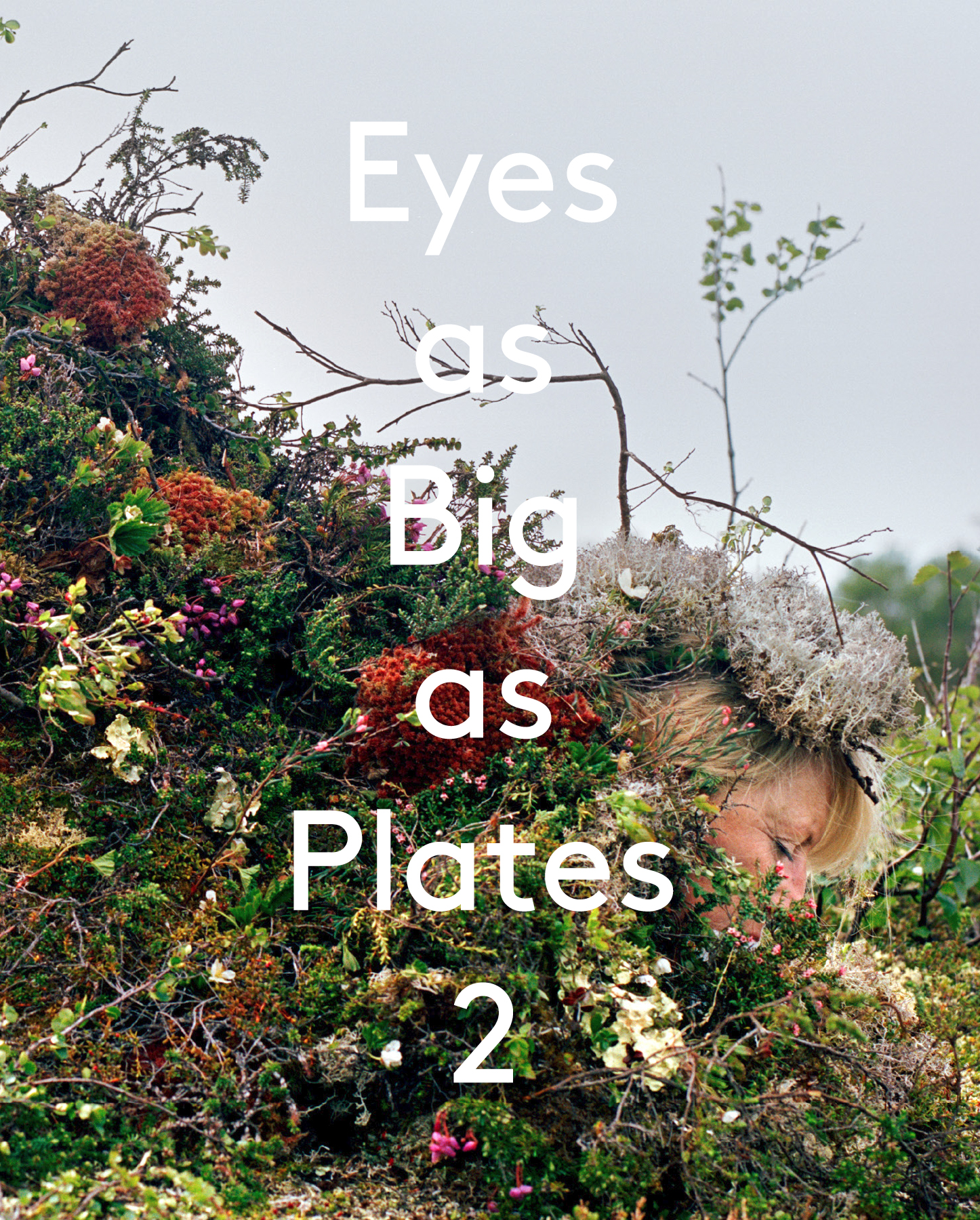 eyesasbigasplates.com

© Karoline Hjorth & Riitta Ikonen